It has been four months since ILAC announced it would be going zero-tech in the classroom and asking students and teachers to "unplug to connect".  Since then, we have been collecting feedback from participants in the Young Adult Program (YAP) to measure in-class engagement, emotional responses and learning outcomes.
In a recent classroom survey, students ages 15-18 were asked to use one word to describe their zero-tech experience at ILAC. The most common responses were: 'relaxed', 'cool', 'good', 'focused', 'serious', 'fun', 'happy'. One student wrote 'difficult' about having to turn off their phone while in class.
Despite its challenges, the majority of students are embracing the opportunity to be present (literally!) in the classroom. Colombian student Jose Cardona Arias is in a Cambridge English CAE preparation class at ILAC Vancouver. At 17 years old, he says he is already trying to add the habit of unplugging to his daily routine.
"I feel keener in the classroom," says Jose. "The advantages are that you are more human, you interact more with others – that's the idea of language."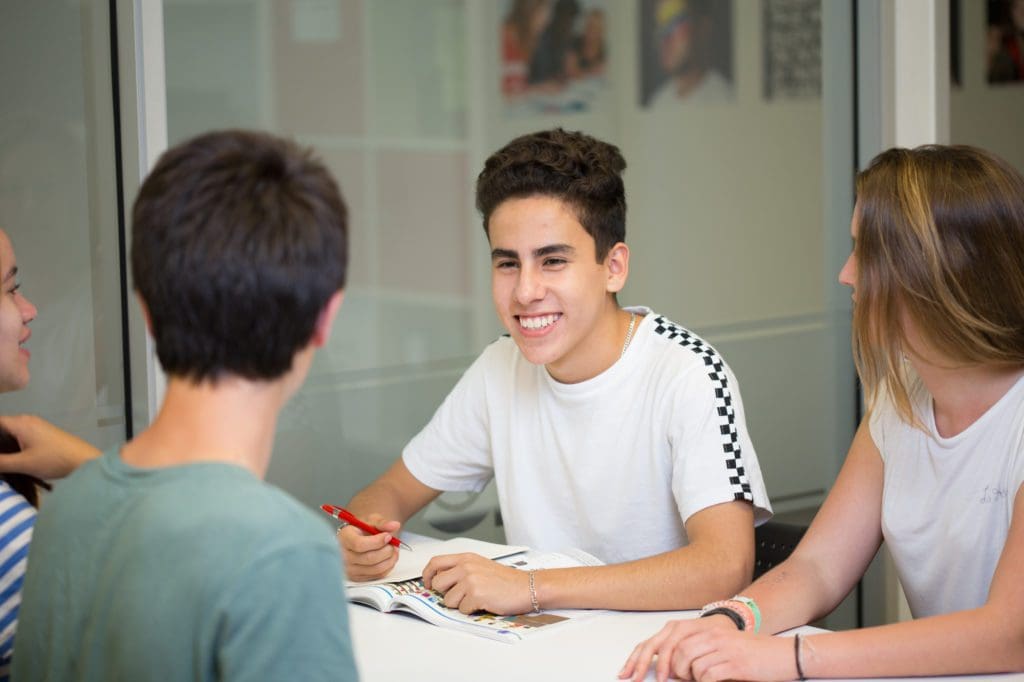 Jose has been at ILAC for only a short time but already says he is thinking in English more when not distracted by his phone. Many other students and teachers, even those who admit to being addicted to their cell phones, agree that removing mobile devices from classes was a necessary change for ILAC.
"Paradoxically, when you are texting and chatting with your friends you feel more and more alone," says Jose. "The best advice is to be your best and be part of the experience!"
Michelle McNaughton teaches a Cambridge English CAE Young Adult preparation class (High-Advanced) which is participating in the Zero Tech pilot project. An ILAC Vancouver teacher for over five years, Michelle believes that the experience is a total game changer.
"I modeled the experience and I got the least resistance from the young adults," Michelle says. "They're just so engaged, it's like a team project to figure things out. Instead of going to their phones, students are conversing and making plans…it's awesome to witness."
Teachers have been the most enthusiastic advocates of the pilot project and immediately noticed how removing cell phones in class had a direct increase in English usage, attention and communication with other students. 
According to Michelle, the zero-tech movement at ILAC establishes a community in the classroom with more focus on chit chatting and conversation in the in-between moments. Her advice for other teachers at ILAC and elsewhere is to lead by example.
"I don't take my phone at break times," she says. "And I don't even need to ask my students to put their phones away, they just know."
The ILAC Zero-Tech Pilot Project was launched in response to the growing number of "screenagers' – teenagers addicted to their screens – who were missing out on direct communication and connection with their teachers and other students in the classroom.  To learn more about the program, see https://www.ilac.com/ilac-zero-tech/